Resume & Reviews
Click to download:
~ – ~ – ~ – ~ – ~ – ~ – ~ – ~ – ~ – ~ – ~ – ~
REVIEWS:
"But the real stars were the performers: … especially soprano Winnie Nieh, who enunciated so well that the audience needed no program notes." – San Francisco Classical Voice (on premiering songs for soprano & cello at Hot Air Music Festival, at San Francisco Conservatory of Music)
"Soprano Winnie Nieh's voice rose impeccably pure and heart-breaking…" – Classical Music Rocks (on Mäntyjärvi's Canticum Calamitatis Maritimae)
"… the shifting shades of meaning arising from the permutation of the words was revealed through the clarity of Nieh's diction and her secure sense of pitch, perfectly matched to the diversity of sonorities in [cellist Evan] Khan's execution." – The Rehearsal Studio (on it is enough by Matt Boehler (text: Erin Bregman) at San Francisco Conservatory of Music)
"Winnie Nieh's high soprano making gorgeous harmonies as her Handmaiden Belinda." – Voce di meche (on Dido and Aeneas)
"Howells seemed to be going for a particularly transcendent rhetoric in his solo soprano lines; and Nieh definitely rose (without trying to avoid the pun) to the occasion." – The Rehearsal Studio (on Howells' Requiem)
"That was really fabulous, really fabulous… You captured the poignancy of Calamity Jane's situation very, very well, especially at the moment when Calamity Jane fully understands that she will never see her daughter again. Such poise and professionalism!" – Libby Larsen, acclaimed American composer / GRAMMY award winner as producer of Best Classical Vocal Performance for "The Art of Arlene Augér" (on Winnie's performance of All I Have from Larsen's own cycle, Songs from Letters)
"She is an emerging artist with a great deal going for her. Her voice is pure, sweet, and well-focused–able to soar above piano or orchestra. Her German is as good as it gets with every word understandable.
In the set of songs by Franz Schubert… In "Im Frühling"… Ms. Nieh colored her voice appropriately for this bittersweet tale of love and sorrow… In the contemplative "Nacht und Träume", Mr. Muraco's playing had a spiritual feeling… and Ms. Nieh matched him perfectly. The rhythmic "Der Musensohn" made us want to get up and dance and the tender "Sei mir gegrüsst" brought tears to our eyes... "Die Männer sind méchant"… truly allowed Ms. Nieh's acting skills to emerge.
A set of Hugo Wolf songs, with texts by Eduard Mörike, filled us with delight… The two artists excelled in "Nixe Binsefuss"… earlier we were close to weeping again when the pair performed "Das verlassene Mägdlein"… Again, Ms. Nieh's fine acting put the song across just as Wolf intended. The attention to text and music vividly brought the picture to the mind's eye." – Voce di meche (May 2016 Art Song Preservation Society of New York recital)
"the Compleat Musician being… [a] pianist and violinist as well as an operatic soloist. Her diction, clarity of tone and fantastic facility seem effortless. She negotiates huge intervals with fluidity and has a dependable fidelity of pitch that is a joy. Both she and accompanist communicated the composers' intentions, feelings and phrasing." – The Concord Journal
"a strong and clever Susanna, adding character, humor, and vocal talent to the opera." – The Harvard Crimson (on Le Nozze di Figaro)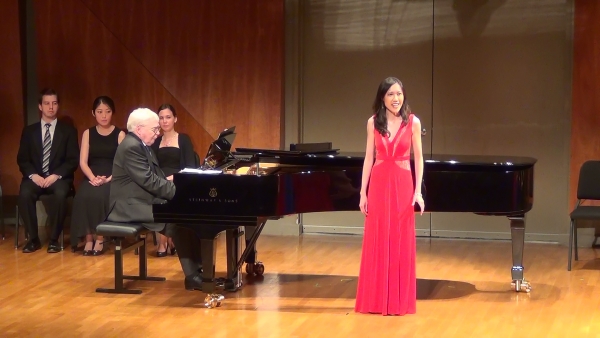 © 2012-2017, Winnie Nieh, All Rights Reserved